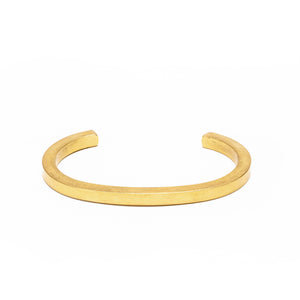 A foundation piece. Cold-formed cuff bracelet with stamped logo. Available in two sizes. Made in Cleveland, Ohio 
Small size fits wrists under 6.5" 
Large size fits wrists over 6.5"
3/16" Square bar. Measures 2.5" X 2". Solid Cartridge Brass (ally 260 - 70% Copper, 30% zinc). Square cut ends.
Craig Hill, based in Brooklyn, is a product design and manufacturing brand that harnesses the power of machines to create enduring objects that discourage the culture of consumption and waste by fostering consciousness.